2016 marked the first year of our Artist-at-Sea program, bringing together scientists and artists on board of Falkor. The idea came from co-founder Wendy Schmidt as a way for participating artists to broaden the impact and accessibility of ocean science data by communicating the research being conducted in new and unique ways.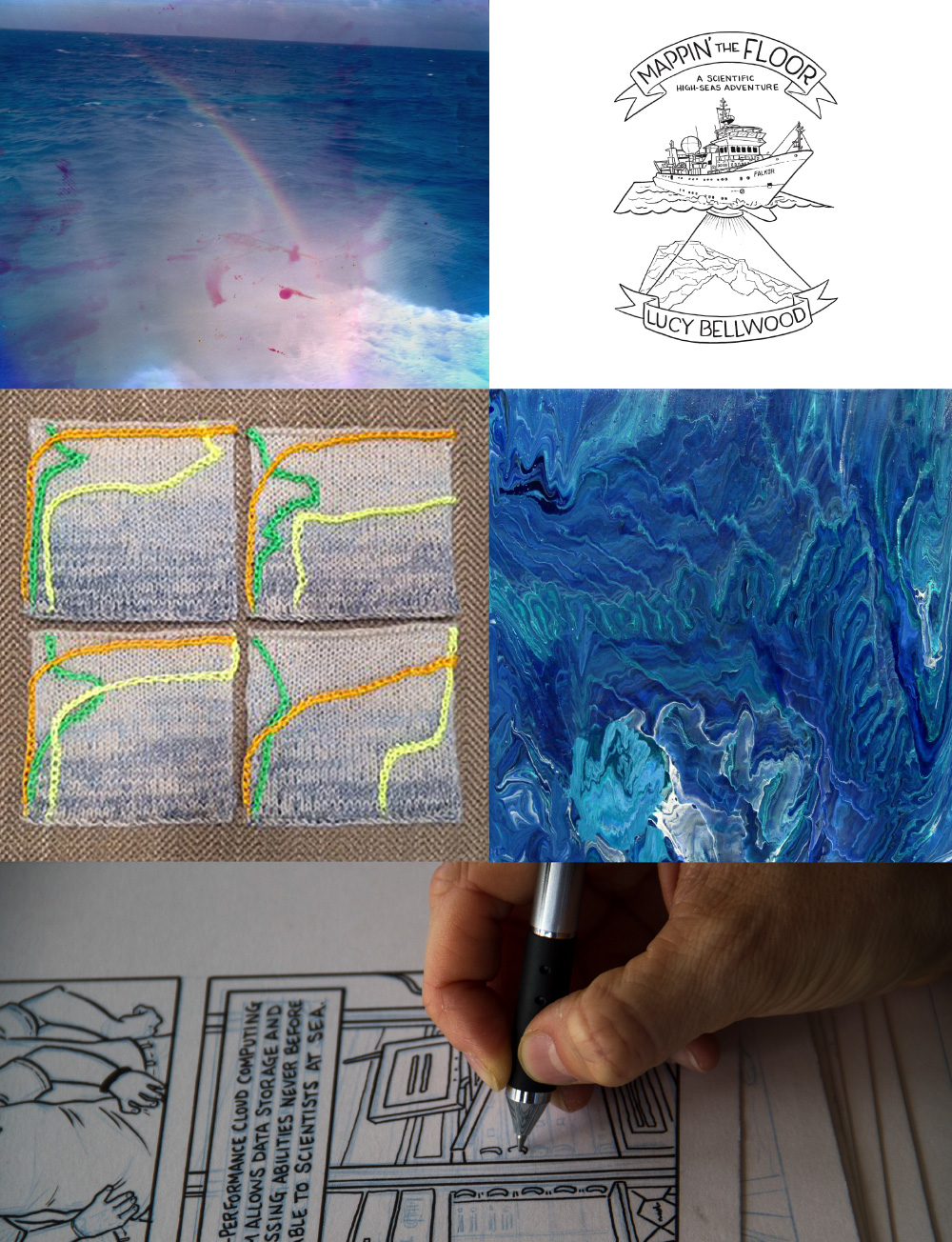 The artists complete a community outreach component and produce a final art piece that is left on board to contribute to the growing Artist-at-Sea installation. Six artists have been aboard Falkor this year, with projects ranging from the first crocheted CTD data, to music composition, to painting bathymetric maps in beautiful abstract arts. Other visual innovations have been created with pH data obtained from the Wendy Schmidt Ocean Health XPRIZE pH sensor, photographic-based images treated with seawater, digital animation, and cartoon arts. These artists tell the stories of the scientists and the research being conducted at sea in a unique, engaging, and accessible manner to reach audiences that normally would not be attracted to numerical figures or raw oceanographic data. The goal of the artists is to reach people who might not be interested in science, but with an artistic approach, participants can digest the research in an accessible format, raising interest in science and highlighting the importance of our ocean.
One of the first participants was fiber-artist Michelle Schwengel-Regala, who sailed on the Life Without Oxygen cruise in January. While her initial ideas referenced a period of historical naval camouflage called "dazzle," she became inspired by features of the data being collected by the science crew, and began producing yarn-based designs and patterns from numerical data. "Working with sets of numerical data opens up interesting artistic pathways for me," said Michelle. "Notably, my idea to create textiles containing information graphics in seemingly abstract patterns."
Rebecca Rutstein was another artist aboard Falkor during the ship's transit from Vietnam to Guam. Her method was to incorporate assets of data – recorded and compiled by researchers on Falkor into layered, acrylic paintings on canvas. She set up a temporary studio in the ship's Wet Lab and used collected data from the Changing River cruise including satellite imagery, CTD measurements, and multibeam sonar readings of never-before-seen ocean floor bathymetry. Rebecca used these maps as overlays in her paintings on top of layers of poured paint where color dispersed in response to the ship's rocking motion.
Ben Cosgrove, a musical composer, spent his time on Falkor traveling from Vietnam to Australia this past September. Ben wrote several musical pieces inspired by ship data collected while in transit. "The goal of any art made in response to science or fact," he said, "should be to identify a particular story or message within that data, and seek to enlarge that narrative in a way that resonates with some other, less cerebral, part of the human experience." Ben's piano piece was influenced by Falkor's speed. The music's structure reflects the variance between the ship's speed through water and its speed over ground; the drag of the water between the ship and the ocean floor creates this simultaneous disparity. In the piece, each of the pianist's hands is mapped to one of the speeds. Cosgrove hopes the results leads the listener "to perceive a broad, shifting, undulating texture that illustrates the influence of the ocean on the ship's forward motion while also viscerally evoking the waves that gently rocked the ship throughout this journey."
Artist evaluations showed an improved understanding of science and a new interest to incorporate more ocean conservation and science into their work. The program will continue in 2017 as an avenue of enlightenment and exposure to complex ocean issues.
It is exciting to have access to the multibeam sonar technology and incorporate data that has just been collected into my paintings. Just as areas of science can benefit from the communicative nature of the artist's work, the artist can benefit from technology in their own process.
          — Rebecca Rutstein