Schmidt Ocean Institute continues bring our passion for technology and science to the public through numerous outreach programs. 2016 was a particularly busy year with dedicated public events in locations such as Fiji, Tonga and Guam.
Our focus is to reach communities that do not have exposure to the science conducted at Schmidt Ocean Institute, and share the importance of understanding our oceans.
During the two hydrothermal vent cruises this spring, Schmidt Ocean Institute held 15 events in Fiji and Tonga, reaching more than 1,700 students. Further development of community relations took place in Tonga with an open tour day aboard Falkor as well as presentations to students and marine managers. Over the summer, 300 people toured Falkor through a dedicated program introducing Guam to Schmidt Ocean Institute's brand new ROV SuBastian. While in Guam a welcome event was held at Underwater World, who also broadcasts all of the live dives with ROV SuBastian. Several presentations were given at the war in the Pacific National Park as well.
Schmidt Ocean Institute is unique in that we support the communications and outreach for the scientists onboard Falkor with dedicated multimedia correspondence team. However, we encourage participating scientists to engage in outreach and offer a science communications training in advance of their expedition. In February, training was provided to the chief scientist and co chief scientist teams at the Ocean Sciences Meeting in New Orleans, Louisiana. An alumni event at the meeting brought together past and future Falkor science parties to share their experiences and build networks within the Falkor science teams.
Schmidt Ocean Institute maintains connections to both academic and community audiences through conference presentations, panel discussions, museum and aquarium talks, and classroom connections; presenting to more than 12,000 people since 2014. This year Schmidt Ocean Institute co-founder Wendy Schmidt gave a presentation about the importance of our oceans to students at the University of Hawaii after talking live to Falkor through a Ship-to-Shore connection, and led a follow-up discussion for female students in science.
Training the next generation of ocean scientists is a high priority for Schmidt Ocean Institute, as demonstrated by the 198 graduate students who have participated in expeditions aboard Falkor, and through our Student Opportunities program. In January, we hosted our youngest student since the program began – Caleb Hsu, a freshman in University of Hawaii's Global Environmental Sciences Program.
Being in this program has given me a realistic and authentic experience of science-at-sea and a chance to apply what I've learned in class. Research is something I'd like to continue in my future years.
          — Caleb Hsu
For those who cannot come aboard Falkor, our growing online presence invites students and community all over the world to participate in the science activities on Falkor. Our new website design attracted over 97,000 new visitors and over 400,000 page views this year. The website features a search function for cruises and publications, image and video gallery, and a live Falkor status page.
This year we doubled our live Google Hangouts On Air reaching 94,090 viewers, and hosted several new programs including a dedicated series of virtual field trips with EarthEcho International and our first Reddit "Ask Me Anything" about ROV SuBastian. Live weekly Hangouts were conducted with the ROV SuBastian Engineering Team, scientists onboard of Falkor, and the Artist-at-Sea participants.
Our blogs and videos provide real time accounts of the research taking place, and engaging with our public audiences. This year we added an Instagram account to our social media quiver sharing the incredible photography and video captured while at sea. Our other social media accounts continue to grow with the development of our themed #TechTuesday and #ScienceArtFriday posts. Online competitions help to engage our audiences with screen shot competitions during the live broadcast of our ROV dives.
With the build of ROV SuBastian, a 16 part video series was constructed following the vehicles fabrication and assemblage. This allowed the public to follow ROV SuBastian's progress and learn about the exciting challenges of building an ROV. This year 43 ROV dives were broadcast live from Falkor, totaling more than 400,000 minutes watched in 159 different countries. These broadcasted videos along with our other shipboard data remains freely available online.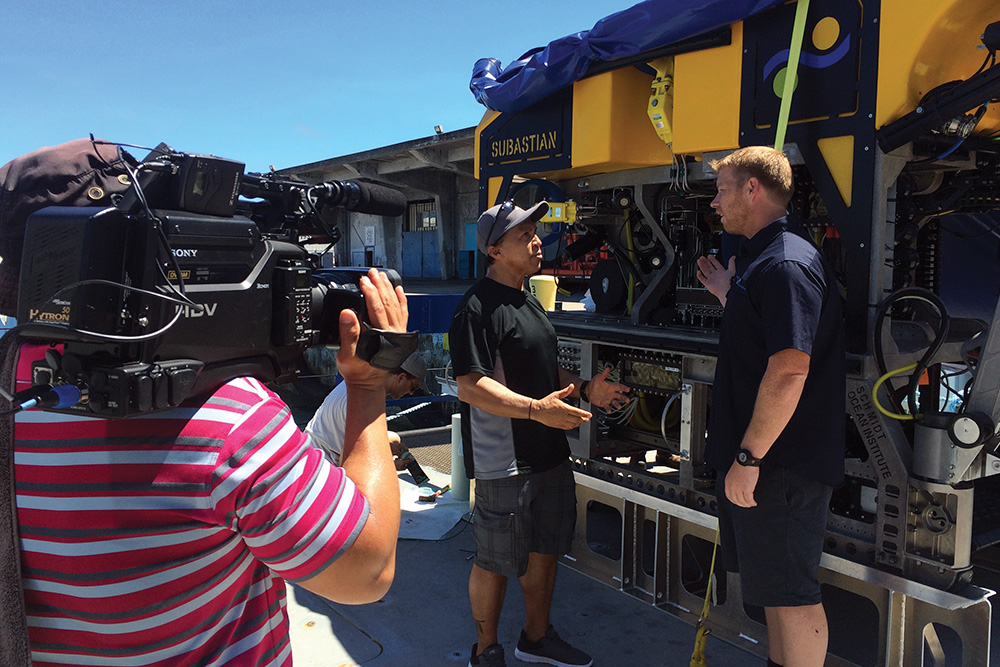 In 2016, Schmidt Ocean Institute received over 1,000 news media stories in international and national television, radio, print, and web publications. We were proud to be featured for a second year in a row in the Marine Technology Reporter's annual Top 100 innovators in the maritime industry. Additionally, the science conducted on Falkor appeared in several magazine articles in Wired, Smithsonian, Inverse, and in a variety of television series such as Animal Planet.